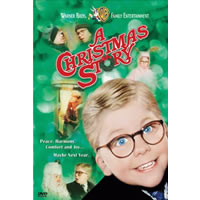 Hi all!  Travis here with what might be the best piece of Tampa Bay entertainment ever!  One of my all time favorite movies, and certainly the best movie for the holiday season, is playing this Friday. 
A Christmas Story will be shown on the Tampa Riverwalk in front of the The David A. Straz Jr. Center for the Performing Arts (formerly Tampa Bay Performing Arts Center) this Friday, Dec. 11. at 8pm
And here's the best part...it's FREE!!!!!!!
Here's a little about the program - come to TBPAC for FREE films and more outside on the Riverwalk! See films that will enhance your enjoyment of the live stage version that's coming to TBPAC, in addition to other fun and funny holiday films for the whole family!
This "little" 1983 film gets funnier, more heart-warming and more beloved with each passing year. All 9-year-old Ralphie wants for Christmas is a Red Ryder BB gun despite the adults who tell him, "You'll shoot your eye out!"
Concessions will be available for purchase. Stadium chairs and blankets welcome...but no coolers, please. (In the event of rain or inclement weather, the film will be cancelled and possibly rescheduled.)
I have already made my plans to be out there, so I hope to see you there too! 
Keep checking back here for more great things to do in Tampa Bay and other Tampa Bay area events!