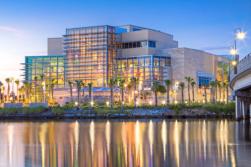 Did you know that the first cowboys in North America were Spanish conquistadores who brought cattle and horses to Florida in the 1500s? Did you know that Babe Ruth – The Bronx Bomber – hit the longest home run of his career in Tampa? Did you know that by the 1920s Tampa was home to 200 cigar factories that combined to produce more than 400 million cigars in a single year?

The Tampa Bay History Center is the perfect spot for people looking for a real Tampa experience. Whether it's the dastardly Spanish explorer Panfilo de Narvaez, who blew ashore in 1528, or the rough-riding Teddy Roosevelt, who arrived with 30,000 troops in 1898, the History Center brings the unique personalities and true tales of Tampa Bay to life.

After your one-stop tour of Tampa is complete, you can relax with a glass of sangria and some authentic Spanish tapas at the Columbia Cafe, located inside the History Center. Part of the historic Columbia Restaurant founded in Tampa's Ybor City, the waterfront Columbia Cafe offers classic dishes, from authentic Cuban sandwiches and empanadas to Arroz con Pollo (yellow rice and chicken).

This 60,000-square-foot, state-of-the-art museum located on Tampa's Riverwalk features three floors of interactive exhibits, a museum store filled with Tampa-centric gifts, and room to book parties of up to 1,000 guests. We offer after-hours gallery access for special events, private tours, and custom food service options for any palate.

If you're looking for a venue as unique as the history it holds, look no further than the Tampa Bay History Center!