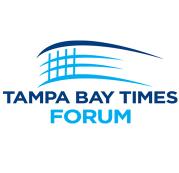 Hello there again college hockey fans! Jerm back here with another update on all things NCAA Frozen Four Hockey in Tampa Bay! As you already know, this year's installment of the NCAA Frozen Four will held at our very own Tampa Bay Times Forum.
The Tampa Bay Times Forum, is Florida's premier entertainment venue and home of the 2004 Stanley Cup Champion Tampa Bay Lightning and Five-Time Arena Football Champion Tampa Bay Storm!
What you also may not have known that the Tampa Bay Times Forum has recently under went a 40 million dollar transformation! As a Frozen Four College Hockey Fanatic, you'll get to see and experience all of these amenities first hand next Thursday and Saturday as you watch your team's battle it out on the ice!
To wet your whistle a bit before the puck drops, here are 5 quick cool, quick facts about the new Tampa Bay Times Forum:
The new digital pipe organ features five keyboards and 42 ranks of sounds, with a sound system comprised of 260 dedicated speakers.
 
Each of the building's 69 suites has been completely reconstructed and finished with the most modern materials and technologies. With 20 suites less than 25 rows from the main floor, luxury seating options are in abundance for the most discriminating sports and entertainment fans.
 
The Bud Light Outdoor Party Deck located on the 300 level/Terrace level offers 10,000 square feet of gorgeous, unobstructed views of downtown Tampa. In addition to the views, the deck has five new concession stands and beverage bars with 10 new points of sale available to all arena guests.
 
To help enlarge Executive Suites, 72 restrooms have been removed and replaced with eight exclusive hallway restrooms.
 
The Tampa Bay Times Forum main restaurants have been transformed into one grand 9,000-square-foot dining experience called The Firestick Grill. The kitchen was replaced with four ovens, one broiler, 10 prep stations, three refrigerators and a 320-square-foot freezer.
As you can see, when it comes to the fan experience, the folks over at the Tampa Bay Times Forum have you the fan top of mind! Of course you know however, that there are even more new cool things going on at the Forum, and we'll be back later with another post to tell you more about those features!
All of these great enhancements are part of the Tampa Bay is New Now initiative! For more information, visit www.TampaBayIsNewNow.com to learn more. That's all for now folks, but keep checking back in for more college hockey updates!