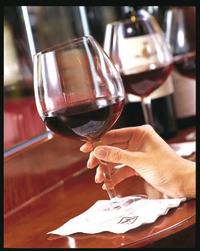 5 Sweet Dining Spots in Tampa Bay for Valentine's Day
Do you feel it in the air, lovebirds?  We do! We do! Valentines' Day is here, and many Tampa Bay restaurants have unveiled menus for this special occasion. Here are 5 Sweet Dining Spots to dine your sweetie this Valentine's Day in Tampa Bay.
Fleming's Prime Steakhouse & Wine Bar
Fleming's will celebrate the romance of Valentine's Day with four evenings of decadent specials and a unique Valentine gift for couples dining on Thursday, Friday, Saturday or Sunday, February 14th through the 17th.
 How Much: $69.95 per person  
Featured Menu Items: Roasted Lobster Tail, Chateaubriand with Crab Glaçage and Chocolate Budino
MOJITO
Celebrate with your loved one on Valentine's Day with a complimentary champagne cocktail at MOJITO.
How Much: Starting at $40 per person  
Featured Menu Items: Filet Stuffed with Gorgonzola Cheese, Broiled Lobster Tail and Crème Brulee
Roy's Hawaiian Fusion Restaurant
For that special someone in your life, there's nothing quite like Valentine's at Roy's. Indulge with a 4-course dinner that will make your heart flutter with epicurean delight. Love is most definitely in the air at Roy's.
How Much: Starting at $50 per person  
Featured Menu Items: Olive Oil Poached Tuna Niscoise, Crispy Honey and Walnut Shrimp, Prosciutto and Fig Stuffed Quail and White Chocolate Mixed Berry Cobbler
AQUA
Bring your Sweetheart to AQUA this Valentine's Day for a romantic dinner for two.
How Much: $100 per couple
Featured Menu Items: Classic Cesar Salad, Filet Mignon and Lobster Tail
Boca Kitchen Bar and Market
Boca Kitchen Bar and Market will be offering the "Sweet Heart Package," yours truly will remember forever, the experience that will make their hearts melt. 
How Much: Starting at $40 per couple
Featured Menu Items: Heirloom and Swine Flatbread, Braised Short Rib and Chambord Sabayon and Fresh Berries