1.8 Miles of continuous sidewalk! (To evolve into 2.4 miles) The perfect place for getting out and enjoying Tampa's new bike share program.

Eight great stops to grab a brew and take a stroll. Tampa just passed an open container law for the Tampa Riverwalk so you can walk with your brew, just remember no more than two drinks in hand and not before 11 a.m. or after 1 a.m.

The Columbia Cafe at the Tampa Bay History Center
Tampa Marriott Waterside Hotel & Marina
Tampa Convention Center
Sheraton Riverwalk Hotel
Malio's Prime Steakhouse in Rivergate Tower (the "Beer Can Building")
Sono Café at the Tampa Museum of Art
Maestro's at the David A. Straz Jr. Center for the Performing Arts
Ulele restaurant and brewery

On-the-water fun at eBoats Tampa or Tampa Bay Water Boat Company. You can take out a small boat for a tour or rent a water bike, that is correct, it is a bicycle you pedal on the water!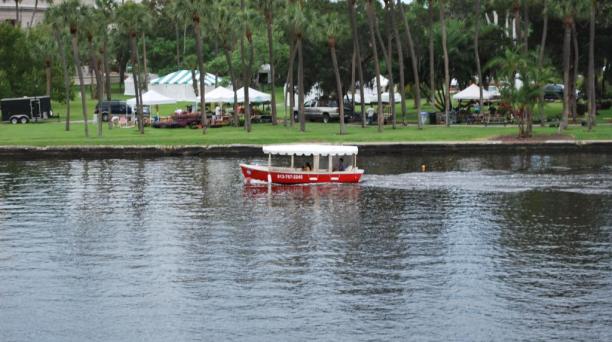 4. Beautiful lights at night illuminating our bridges and overpasses.
     5. Curtis Hixon Dog Park- when your pooch needs a place to run around there are always some small pups having a great time. (Photo credit Stephanie Schulte)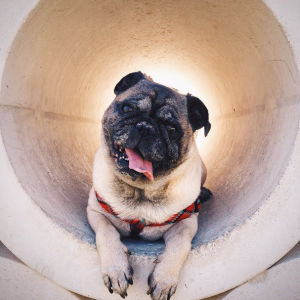 Note: If you are riding your bike near Sail Pavilion be careful if the ground is wet, we may have some firsthand experience wiping out! BUT the bonus is there is a bike repair station right there for you to give yourself a little tune up. Bikers should also know the speed limit on the Tampa Riverwalk is 5 MPH -- according to newly posted signs. This keeps the Riverwalk safe for walkers and bikers alike!
Come on out and have some fun!