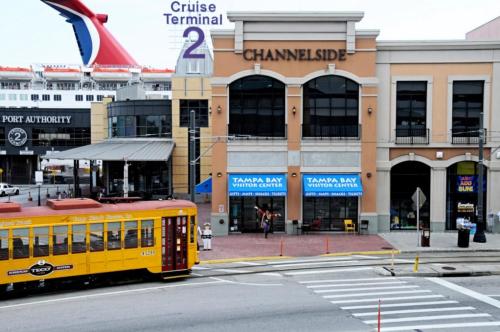 Tampa Bay Lightning owner Jeff Vinik unveiled a vision for Tampa Bay's Channelside district this morning that promises to showcase some of the region's greatest treasures, starting with its waterfront.
Vinik, who has assembled nearly 30 acres of largely vacant former industrial land around the Amalie Arena, laid out plans for a new hotel and reinvented Channelside Bay Plaza, along with office towers, housing, shops and the University of South Florida's medical school.
The plan also envisions modernizing the TECO Historic Streetcar and adding ferry service along the waterfront and into the bay.
The Channelside waterfront "is a phenomenal resource that's been underutilized," Vinik told a packed press conference at the Tampa Marriott Waterside Hotel & Marina, which he also recently acquired.
A key part of Vinik's proposal is reinventing Channelside Bay Plaza into a new entertainment district. Part of the redesign calls for knocking down a wall and opening the complex so it has views of the water and city to the southwest.
The new 400-room hotel will sit across Florida Avenue from the Tampa Convention Center. It will include more than 100,000 square feet of meeting space, expanding the number and/or size of events the convention center can host. Vinik also plans renovations to the Marriott Waterside.
Along with those improvements, Vinik envisions extending the 2.5-mile Tampa Riverwalk, which now ends at the Tampa Bay History Center just west of Channelside Bay Plaza. Vinik wants the Riverwalk to become a key feature of the waterfront and the thing that links some of the region's biggest tourism engines.
Vinik's project isn't happening all at once. While work on some of the proposal will start next year, the entire project could take five to seven years to finish, he said.
In the meantime, Vinik's development team wants to hear from the folks who'll be using their new waterfront development. Give your input at Tampa Waterfront 2020.