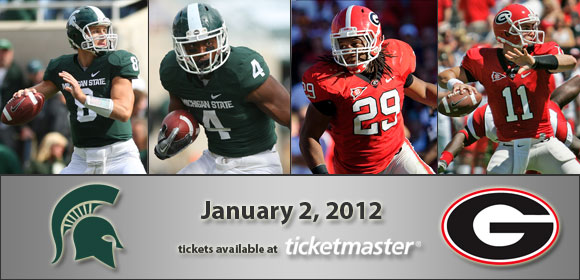 Hey everyone.  Travis back with great gridiron things to do in Tampa Bay.  One of my favorite events of the year is the Outback Bowl!  Although our hometown USF Bulls can't play (it's a matchup between the SEC and Big Ten Conferences), we still have some of the country's best teams face off in Tampa Bay! 
This year, the Michigan State Spartans and Georgia Bulldogs will square-off in the Outback Bowl on January 2 in Tampa. That's right, the game is Jan. 2 this year!  It is a match-up of two 10-win Division Champions from two of the most prestigious conferences in college football. The Spartans are ranked 12th in the AP Poll while the Bulldogs are ranked 18th. It's hard to believe that we have two top 20 teams coming to Tampa Bay!
If you've ever been to an Outback Bowl in Tampa Bay, you know there are a lot of events to participate in surrounding the game, including parades, beach days, and much, much more.  You can find all of those events and information at www.OutbackBowl.com.  But we'll also be back with more updates about what's happening surrounding the game. 
But remember, the Outback Bowl will be played on January 2, kickoff at 1PM, at Raymond James Stadium. Tickets are on sale through Ticketmaster..just call (813) 287-8844 or 1-800-745-3000, or head over to www.ticketmaster.com. And if you just want your tickets in your hand, then tickets can also be purchased at any Ticketmaster outlet in the state of Florida.
And like I said, keep checking back here for more updates, or head over to www.OutbackBowl.com to get more details.  And we'll see you with more great Tampa Bay area events!