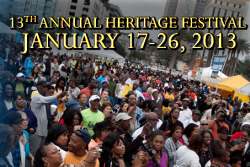 Celebrate African Heritage Heritage this week in Tampa Bay as the 2013 Tampa Bay Black Heritage officially kicks off tomorrow with events all over the Tampa Bay area!
This ten-day cultural event that features speakers, musicians, artists, poets and crafts people locally and nationally January 17, 2013 and will run through to January 26, 2013 with events at various locations throughout the Tampa Bay area!
Each day of this ten-day experience provides all attendees with an opportunity to increase their awareness of African and African-American culture and history. Here are some of this weeks events that will be going on:
As you can see, plenty going on this week, so be sure to soak it up and enjoy the festivities. For more updates on the Tampa Bay Black Heritage festival be sure to check out our website!