Good morning everyone, Alex here to let all of you pet lovers around Tampa Bay know about the 2012 Tampa Bay Pet Expo.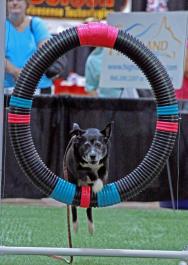 The 2012 Tampa Bay Pet Expo is taking place on Saturday, March 10, 2012 at The Florida State Fairgrounds.  This is a free indoor event for anyone looking to enjoy a day with their furry, feathered or reptilian pals!
The expo will be filled with local and nationally-recognized veterinarians, groomers, trainers, retailers and organizations primarily geared towards pet lovers.
At the expo Shorty Rossi, star of 'Pit Boss' on Animal Planet, will be making an appearance with his popular canine sidekick, Hercules. Also, you will be able to sign your pet friend up to participate in some of the several competitions taking place, such as the costume contest, talent contest or pet/owner musical chairs.
Information about obedience training, pet behavior, nutrition, activism and more will be presented all day on the entertainment stages.
If you are looking to adopt a pet, you will want to head out to the mega-adoption event hosted by Banfield Pet Hospital, which will be held at the expo on Saturday.
Pets are welcome to attend the event, provided that they are on a fixed lead and have proof of age-appropriate current vaccinations. Not up to date on vaccinations? Don't worry! There will be discounted vaccinations and low-cost microchipping available. You can even take advantage of free nail trims!
For more information on the 2012 Tampa Bay Pet Expo, visit www.tampabaypetexpo.com or www.facebook.com/tampabaypetexpo .
I hope you all enjoy a fun day with your pets at the Tampa Bay Pet Expo!
Check back with us often for updates on Things To Do in Tampa Bay!