Hi Tampa Bay, Alex here to share with you the stage talent for the 2012 Seminole Hardrock Gasparilla Street Festival in downtown Tampa.
I know many of you are anxiously awaiting the pirates arrival in Tampa Bay, but what you may not know is the festivities begin before the pirates invade and capture the City – and they'll continue until long after the last pirate has para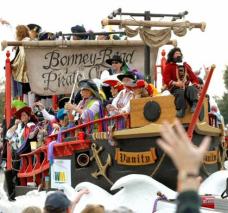 ded through the streets! 
The 2012 Pirate Fest Street Festival features stages with live entertainment, food and fun. Admission to Tampa's Gasparilla festivities, including all Pirate Fest concerts is free. 
Talent will appear on the stages as follows:
Gasparilla Invasion Stage (Latin/Hispanic theme) sponsored in part by, Centro Tampa and Telemundo
(MacDill Park, Located along Ashley Drive and Whiting Street in Downtown Tampa)-PRE PARADE ONLY
11 a.m. – 3 p.m. - Danny Lozada y el Latin Band
Gasparilla Pirate Fest Stage at Curtis Hixon Waterfront Park, Presented by Captain Morgan Original Spiced Rum and sponsored in part by 93.3 FLZ, Mix 100.7 and 98 Rock  
(Curtis Hixon Waterfront Park, Located along Ashley Drive between Madison and Polk)
Before the parade begins, music will be played from CD's on the stage's sound system and provide enthusiastic background music as event guests wait for the Gasparilla Parade of Pirates to begin.
Post Parade- Live Performances
5 – 6:15 p.m.                           Daniel B. Marshall
6:30 – 8 p.m.                           C'NERGY
8:30 – 10 p.m.                         Skycoasters
You don't want to miss out on the many festivities taking place before and after the 2012 Gasparilla Parade on Saturday, January 28th. I hope you all have a fun time!
Check back with us often for updates on Things To Do in Tampa Bay!