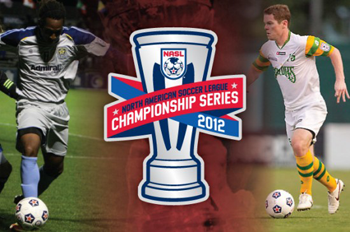 Helloo there soccer fans! Jerm here with some more exciting Tampa Bay Sports news about our local Tampa Bay Rowdies!
If you haven't heard, not only have the Rowdies kicked some tail this season and have made it all the way to the finals where they will travel to Minnesota for the first leg of the NASL Soccer Championship Series, after defeating Carolina on a 5-­‐4 aggregate score in the NASL Semifinals.
The Rowdies have been flying high all season long and head into this game on the backs of plenty of team and individual awards such as 2012 NASL Coach of the Year, NASL Fair Play Award, & NASL Best XI.
The 2nd leg of the series will be held at the friendly confines of Al Lang Stadium, where the Rowdies boast an 11 game unbeaten streak at home, as well as only having lost twice at home in two seasons under head coach Ricky Hill. So if you haven't already done so, be sure to get your tickets for this game as you could be there in person to witness history!
Tampa Bay leads the series in 2012 with two wins and one tie and one loss. Minnesota defeated
Tampa Bay in their only playoff meeting back in the 2011 NASL Quarterfinals, so the Rowdies will be looking for a little revenge to say the least!
The Rowdies will need the support of the entire Tampa Bay area so be sure to check in to the live broadcast tomorrow and cheer the guys on by following on Twitter! For highlights in previous games and to see how the Rowdies got here, be sure to check out the YouTube page as well!