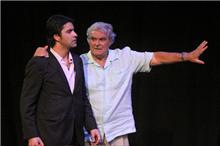 Good morning everyone, Alex here to inform you that the 2011 Vocal Arts Festival is happening now in Tampa.
The second annual Vocal Arts Festival is going on now until  August 20 at the David A. Straz, Jr. Center for the Performing Arts and the Tarpon Springs Performing Arts Center.

The 2011 Vocal Arts Festival is focusing on the theme, "The Joy of Singing," and will feature workshops, presentations and concerts, showcasing vocal artists of all ages.
In addition to the performances listed below, the 2010 Vocal Arts Festival will host a full schedule of intensive coaching sessions, lessons, master classes and workshops.
Some of the events open to the public in the 2011 Vocal Arts Festival include:
Concert: American Song Night with David Friedman – Wednesday, Aug. 10, at 7:30 p.m., Straz Center's TECO Theater
• Presented by composer David Friedman, this concert celebrates the American song repertoire, featuring music by Friedman and more.
Music Out of a Hat – Tuesday, Aug. 16, at 7:30 p.m., Straz Center's TECO Theater
• Hosted by Opera Tampa's Maria Zouves, this fun-filled interactive quiz show will leave the audience wondering what's next with music from opera, musical theater and more.
Composer's Symposium: Carlisle Floyd - An American Legend – Thursday, Aug. 18, at 7:30 p.m., Straz Center's TECO Theater
• Composer of the masterpiece, "Susannah," Carlisle Floyd's music is a staple to opera houses all over the world. He joins singers from V.O.I.C.Experience for a special live presentation of his favorite scenes from his work, staged and presented by the composer himself.
Finale: The Joy of Singing Festival Concert – Saturday, Aug. 20, at 7:30 p.m., Straz Center's Ferguson Hall
• A special concert of hit tunes from all genres of music will celebrate the joyful art of singing. During this final concert of the festival, the 2011-12 Opera Tampa New Artists will be announced.
More information about the Straz Center is available at www.strazcenter.org, information about Opera Tampa, at www.operatampa.org, the Patel Conservatory, at www.patelconservatory.org and V.O.I.C.Experience at www.voicexperiencefoundation.com.

Tickets are on sale now and may be purchased by calling 813.229.STAR (7827) or 800.955.1045 outside Tampa Bay, in person at the Straz Center Ticket Office or online at www.strazcenter.org.

Have a wonderful Monday and check back with us throughout the week for more information on Arts and Culture in Tampa Bay!