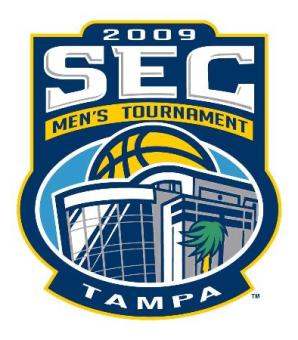 Tampa will host the 2009 SEC Men's Basketball Tournament for the first time in its history next week on March 12-15. Plus this is the first time this event will be back in the state since 1990.

Being and SEC Alumni (guess which school), I can't tell you how excited I am that all 12 schools will face off in this post-season tournament that not only crowns the 2009 SEC Champion, but serves as a spring for entry into the 2009 NCAA Tournament.

The action takes place at the St. Pete Times Forum, which is certainly no stranger to hosting events. For those of you who have been around the past couple of years, you'll remember that this facility served as the site of the 2008 NCAA Women's Final Four, the 2008 NCAA Men's First and Second Rounds, and the 2007 ACC Men's Basketball Tournament. 

Plus, attendees will get much more than on-court action.  Throughout the weekend, fans from across the nation will experience the Dr Pepper SEC FanFare, a 100,000-square-foot attraction offering interactive games and even chances to meet SEC Basketball Legends. 

And for those of you who are interested in attending, be quick because there are limited public tickets and Corporate Contributor VIP Tournament Packages still available. 

Just give Blake Guthrie a call at 813-342-4075 or email him at BGuthrie@VisitTampaBay.com.  And as always, we have a website for you.  Just log on to www.SECTampaBay.com for more details.

We'll continue to bring you updates about this and other Tampa Bay area events and other things to do in Tampa Bay, including info on Tampa Bay hotels, where to eat, what to do and other info, so keep checking back. 

And, let us know if you have a prediction about which SEC school will win the tournament...I know who I'm cheering for.