Greetings football fans! Lisa here from
Levy Restaurants
! If you didn't already know, we are only weeks away from the
Buccaneers
football season opener! Why wait till after kickoff to stuff your face full of game day goodies when you can just let us take care of you before the game too. Be sure to join us on the West side of the stadium 3 hours before every home game.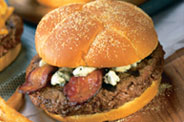 Enjoy unlimited food, cooked fresh by our
chefs
on the grill, unlimited soft drinks and a live band- all stationed where the players walk into the stadium!
Order your tailgate tickets in advance for only $29.95 and receive two complimentary beer coupons per person! Now with that admission, you get access to entry into tailgate areas, Chef Table favorites and live music. Now that's what I call a deal people!
Don't let this opportunity pass you buy to kick-off the season with Coach Morris and the Bucs! Call a Levy Restaurants Representative at 813.350.6490 for more information and to reserve your spot at the season's best tailgate! This is Lisa signing off now, but stay tuned for more Levy themed tailgating things to do in Tampa Bay!