Once a year, one of Tampa Bay's oldest restaurants travels back in time and celebrates the year of 1905.
The Columbia Restaurant , owned and operated by fourth and fifth generation founding family members, will roll back its prices to celebrate the 107th anniversary with "1905 Day" on Sept. 16.
This Sunday, from Noon to 7 p.m, The Columbia Restaurant will offer a special menu of some of Tampa Bay's favorite Spanish dishes that were originally offered at the Ybor location's grand opening back in 1905.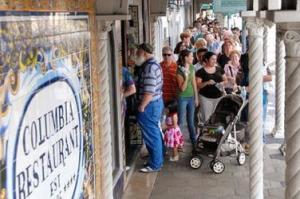 "1905 Day" Menu Items & Prices:
Chicken & Yellow Rice "Ybor" – $2.95
Boliche (eye round of beef) – $2.95
Merluza "Russian Style" – $2.95
Columbia's Original "1905″ Salad – $1.95
Spanish Bean or Cuban Black Bean Soup: cup .50 cents or bowl .75 cents
Sangria: glass – $.95 cents or pitcher – $4.95
Flan – $.50 cents
Richly brewed American coffee – $.05 cents
A few things to keep in mind:
On this day only, reservations are not accepted and take-out items are not available.
Come early, expect a wait and a crowd.
"1905 Day" will take place at the Following Columbia Restaurants: Ybor City (The Original), Sarasota, The Pier in St. Petersburg, St. Augustine, Sand Key on Clearwater Beach and Celebration. 
The Columbia Café on the Riverwalk at the Tampa Bay History Center in Downtown Tampa and the Columbia Restaurant Café at Tampa International Aiprot will not offer the special "1905 Day" menu and pricing, but will still be open and available to dine in.
For more information visit The Columbia Restaurant's website: www.ColumbiaRestaurant.com
Stay tuned for more things to do and dining & nightlife in Tampa Bay!