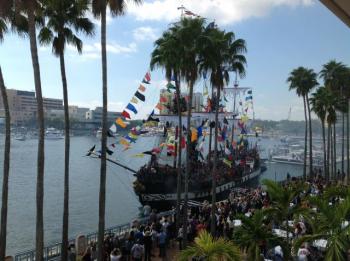 Ahoy Mateys!
This weekend the pirates will invade Tampa Bay in search of all kinds of treasures and will demand the key to our city.  Whether you are an Old Salt (experienced sailor) or a first time Sea Dog… I've put together a few tips to make the most out of your Gasparilla.  Can you believe it..... only 2 days away!!!!!!
Be the most stylish Skallywag on Bayshore Boulevard this weekend!  There are plenty of boutiques all around the South Tampa area that have plenty of garb for all you Bucaneers and the Wenches.  Hyde Park Village also offers plenty of shopping options.  Be sure to stick to the three-color pirate palette: red, black and stripes (let's pretend it is a color okay?).
Boots… boots… boots… blimey y'all! If I could give my lady wenches one piece of clothing advice, this one is the most important… leave the heels at home, stick to boots or flats. You wouldn't believe how many wenches are ready to walk the plank by noon! 
See the invasion by land! You don't want to miss pirate ship Jose Gasprilla and the swashbuckling skallywags invade the ship docks at the Tampa Convention Center on Saturday morning.  Don't leave Harbour Island until you have seen "The Invasion".  The actual pirate invasion sets sail at 11:30 and docks at the Tampa Convention Center around 1 p.m. (pirate time…).  I also recommend having brunch at the Tampa Convention Center and being up close and personal to all the action!  You can purchase tickets to the Invasion Brunch at www.GasparillaPirateFest.com
Watch the invasion by Sea! Hop on board the Yacht Starship for a special Gasparilla Invasion Brunch Cruise.  This ship cruises alongside the Jose Gasparilla priate ship with the flotilla and is the biggest yacht in the invasion! Pirates will be happy to know that this ticket includes all the ruuuuum you can drink (and other liquors and beer…. In other words, it's an open bar) as well as a delicious brunch buffet!  All ages are welcome and you can purchase tickets at www.yachstarship.com Cruise Times: Boards, 10 a.m., Departs 10:30 a.m. and Returns 1 p.m.
Parade Route Details: The 3.8 mile parade begins at 2 p.m. on the corner of Bay to Bay Boulevard and Bayshore Boulevard.  There arghhhh (sorry I had to do it) about 90 floats total, so claim your spot early along the parade route if you aren't lucky enough to be in one of the fancy corporate tents.
Be wary of your Booze: Tampa Police Department has definitely cracked down on the drinking!  There will be zero tolerance for underage drinking, peeing in public and don't think you can get away with open containers in public areas.  Keep those big coolers at home, only soft-sided coolers are allowed for a lunch or a snack (if you were thinking of a liquid lunch or snack, nope… not allowed. I don't recommend testing the system).
Plan ahead, designate a driver. Don't drink and drive.  Be ready for multiple DUI checkpoints set up all around the area and police boats ready for arrests of BUI (boating under the influence).  If you have had too much to drink, go up to your bar staff or wait staff and request "Alert Cab", this program insures you get a FREE and safe cab ride home and sponsored by Anheuser-Busch and Pepin Distributing.  More info on Alert Cab visit: http://bit.ly/LMx8YX
Pirate Parking: Plan to arrive early for parking and expect traffic…. There will be public parking garages in Tampa that charge a flat daily rate.  There are a few parking options in downtown Tampa located at the Tampa Convention Center under the Crosstown and on Channelside Drive.  Locals will also offer parking in their yards and parking lots for various costs.  Parking is also available in the garages at Hyde Park Village. For those who want to avoid the crowds all together, head over to Tampa's Historic Latin Quarter, Ybor City and hop on the TECO Line Streetcar.  For info on routes and fares visit: www.goHART.com or www.gasparillapiratefest.com
Recycle, Recycle…. RECYCLE PEOPLE: Don't trash those cans and bottles…. Recycle them! Rumor is that this year Pepin Distributing has created life-size Budweiser Clydesdales out of recycled Budweiser cans on their float. This is not only going to be a must-see photo opp, but also serves as a reminder to recycle those beer cans and bottles and help keep Tampa Bay Beautiful and keep Gasparilla trash-free and clean!  For more information on this initiative visit: http://www.keeptampabaybeautiful.org/
After-Party Fireworks: New this year, you don't want to miss the Gasparilla after-party and fireworks show at Curtis Hixon Waterfront Park in downtown Tampa.  The party is sponsored by Gasparilla title sponsor, Seminole Hard Rock Tampa and kicks off around 5:30 p.m. and ends at 10 p.m.  Guests can enjoy live bands, food vendors and did I mention FIREWORKS… woooo!
Well, now that you are shipshape there ol' Mates, looks like you are ready to weigh anchor and hoist the mizzen and make an unforgettable 2014 Gasparilla Pirate Invasion!