CHALLENGES OF TOURISM
YES, BUT WHAT ABOUT...
We're among the top destinations in the U.S. for business and residential relocations. Massive projects such as Water Street, The Heights, and Midtown are filling the skyline with cranes. We're also a rising star among desirable travel destinations around the world. A recent survey of local residents showed extremely high support for tourism, and the benefits it provides, but there are challenges both for residents and the tourism industry.
CHALLENGES OF TOURISM
Increased Traffic (88%):
Florida Department of Transportation's traffic counts show that traffic on I-275 (one of Tampa Bay's busiest roads) grew about 20 percent 2014 and 2017 (the peak year for published data) before declining in 2018.
Where do visitors fit into this pattern? Those same FDOT studies show that traffic out of Tampa International Airport – the likeliest source of traffic from air passengers renting cars – averages about 27,000 vehicles a day. That's about 12 percent of the traffic count approaching downtown on I-275 – if all those vehicles headed straight to downtown. An analysis of passenger counts at TPA showed visitors accounted for 30% of in-bound passengers. If all of those rented cars, they would account for about 9,000 vehicles on the road every day.
In many cases, visitors do not venture far from their hotels. Those who do join us on the roads are often traveling at off-peak times, since most of the area's key attractions open well after rush hour. Those trips also tend to be short – between their hotel and their goal. Visitors who stay downtown have the advantage of leaving their car in the hotel parking and taking the TECO Historic Streetcar, Pirate Water Taxi, Tampa Riverwalk, bike share, and scooters to get around to many of our most popular attractions, taking themselves out of the traffic flow completely.
Parking difficulties (62%):
Despite an abundance of private lots and public garages, there never seems to be enough parking spaces for everyone. Within downtown and Ybor City, the City of Tampa controls 9 garages with more than 12,000 spaces and 11 surface lots beneath the Selmon Expressway. On-street parking adds nearly 2,000 more spaces. Beyond that, most of downtown's office towers have their own parking for tenants.
Where do visitors fit into this? Odds are that most overnight visitors traveling by car are parking in their hotel's lot during their stay, keeping them out of the public spaces. Those who use ride-share services or public transit such as HART or the TECO Historic Streetcar to get around need no parking. In the case of major downtown events such as the Gasparilla Pirate Parade, day-trippers are encouraged to use parking in Ybor City and ride the streetcar into downtown.
New hotel developments like the JW Marriott and Hyatt Place/Hyatt Home likewise will include their own parking for guests. Under its development agreement with the City of Tampa, the Hyatt Place/Hyatt Home will include 220 public parking spaces available 24/7 in the heart of downtown.
Cost of Community Upkeep (31%):
Wear and tear on public venues is inevitable, regardless of whether the users are locals or visitors. The funding stream for upkeep on popular venues has many tributaries, including property taxes, sales taxes, and Tourist Development funds.
Where do visitors fit in? During their time in Tampa Bay, visitors contribute directly or indirectly more than $400 million a year to local and state public coffers, according to the most recent assessment by leading industry analyst Tourism Economics. Those funds include property taxes paid by hotels and other tourism-related businesses, sales taxes on purchases, and TDT levies paid on overnight hotel stays. TDT revenue is specifically earmarked for maintaining the Tampa Convention Center, Raymond James Stadium, and Amalie Arena along with supporting tourism marketing. Beyond those funds, visitors support more than 53,000 local workers.
Tourism Jobs are Unstable (30%):
It's a common critique of tourism that jobs in the industry come and go quickly and are poorly paid. Let's address the first part first:
The notion that tourism jobs are unstable may have some credence in places that depend on an individual event or a single season (often summer) for the bulk of their business. In Tampa Bay, year-round good weather, major convention and sports venues, and growing flights and cruise traffic combine to create largely stable visitation numbers quarter-to-quarter. In short, we have no "season" to speak of to produce a spike of hiring followed by lay-offs. In fact, at restaurants such as the Columbia in Ybor City or Bern's Steak House in Hyde Park, it's common to find staff members who have spent decades working at those exemplary establishment.
Now to the wage issue. According to the US Bureau of Labor Statistics, the average wage of workers in Leisure and Hospitality in Tampa Bay is $467 a week, equal to the U.S. as a whole.
Tourism is often the entry point for job-seeking young people and immigrants, who tend to come in on the low end of the wage spectrum. By their nature, tourism jobs can also offer workers flexibility in their hours, in many cases providing students with part-time work. At the same time, the stability and reliability of tourism jobs in Tampa Bay means many people are able to rise through the ranks of their industries to high-paying jobs in management – speak to a hotel general manager anywhere in Tampa Bay, and you'll quickly discover they began their career as a desk clerk or housekeeping attendant.
Season of Trip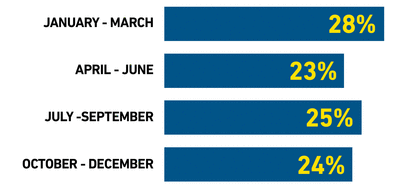 Political Challenges:
While numbers are still being crunched for 2019 – Over 126 million people visited the sunshine state in 2018, the latest in a string of annual visitation records. Likewise, the Tampa Bay area has also seen its share of record-breaking visitors to Hillsborough County, topping out at 23.6 million in 2018. While tourism remains a leading industry at both the county and state levels, uncertainty remains. New attacks from politicians, economic instability, and natural disasters are all "round the clock" threats to the tourism economy, which remains one of the top two industries in Florida, and in 2018, pumped $4.2 Billion into the Hillsborough County economy through visitor spending.
Florida is home to world-class beaches, amusement-parks and attractions, so it's no wonder why annual visitation to the state is routinely record-breaking. However, some believe that these tens of millions of visitors will continue to choose the sunshine state without any marketing or promotion. This is a cautionary tale best represented by Colorado's decision to eliminate tourism marketing…
In 1993, Colorado became the only state to eliminate its tourism marketing function, when it cut its $12 million promotion budget to zero. As a result, Colorado's domestic market share plunged 30% within two years, representing a loss of over $1.4 billion in tourism revenue annually. Over time, the revenue loss increased to well over $2 billion yearly. In the important summer resort segment, Colorado dropped from first place among states to 17th.
It took until 2000 for the industry to convince the legislature to reinstate funding with a modest $5 million budget. Research tracked the effectiveness of the state's tourism campaigns over the next few years, and demonstrated an ROI of over 12:1. In 2006, Governor Bill Owens signed a bill upping the tourism promotion budget to $19 million. By 2007, travel to Colorado rebounded to an all-time high, with 28 million visitors spending $9.8 billion enjoying their trips to the state
Unfortunately, other outside factors such as gun control/violence, hurricanes and other natural disasters have also become more regular occurrences. When issues with perception like this effect a high tourism area, there is a need for a common voice to combat, and fact check, the negative media coverage.
Tampa Bay's Talent:
Hospitality is becoming an increasingly important part of Hillsborough County's economy. With over 1,000 new hotel rooms completed in 2019, and another 2,000 in the works for 2020, the leisure and hospitality sectors are growing faster than the general economy in terms of both employment and income. In the private sector, tourism dollars fuel jobs, sustain industries, and buoy Florida's economy as a whole. In the public sector, through taxes and fees on their purchases, they assist in funding the services that residents expect our local governments to handle. Increases in tourism benefit our state's budget. The tourism sector is also responsible for 7.4% of all jobs in Hillsborough County
To maintain growth in an area with only around 4% unemployment, it is imperative we are actively sourcing the right talent and keep the economy moving in the right direction. As a result, Visit Tampa Bay works closely with the Tampa Bay Economic Development Council on their mission to attract and retain high-wage jobs and capital investment in Hillsborough County and the cities of Tampa, Plant City and Temple Terrace. Through the "Make It Tampa Bay" campaign, Visit Tampa Bay supports new, growing careers in the area.
Yield/Type of Visitor:
Record breaking visitation is great. It's what we aim for! In 2018, the 23.6 million visitors booked over 6-million hotel rooms. But the challenge is ensuring we focus on windows of opportunity and investment, rather than just increasing the number. We strive to ensure we are bringing in the best visitors and convention goers we can market to. Those who stay longer, spend more, and branch out to experience all that the Tampa Bay area has to offer. Even though day trippers are great (and up 3.9 %), we want to make Tampa Bay more of a destination than a day trip. Overnight visitors spend more. Plain and simple. Visitor spending is up 6.9%, and overnight domestic visitors accounted for $2.3 billion in spending. Through the marketing efforts of Visit Tampa Bay and others, overnight visitation to Hillsborough County is up 2.1% year over year.
505,000 international travelers visited Hillsborough County in 2018. These international visitors spent much more than domestic visitors ($1,290 vs $145). So, while international tourists make up only 2.1% of percentage of overall visits, they represent 16.4% of total visitor spending. This is why Visit Tampa Bay continues to work closely with Tampa International Airport and Port Tampa Bay to deliver more flight services, as well as cruising options, to our residents and visitors alike.
While now a leisure travel destination, Tampa has long been a prime location for meetings, conventions, and other large events. Visit Tampa Bay works in conjunction with both the City of Tampa, and Hillsborough County, to bring large meetings and conventions to the Tampa Convention Center. Year round, hundreds of thousands of convention goers flock to Tampa's growing downtown, where they can also experience all the local favorites found along the Tampa Riverwalk. Working in conjunction with the Tampa Bay Sports Commission, Tampa is no stranger to being on the national stage, and has hosted large national events such as; Super Bowl XLIII in 2009, 2012 NCAA Men's Frozen Four, 2015 NCAA Woman's Final Four, 2017 NCAA College Football Playoff National Championship, 2018 NHL All Star Game, and the 2019 NCAA Woman's Final Four. On the horizon, Tampa Bay will also be hosting Wrestlemania 36 in April 2020, and Super Bowl LV in February of 2021. You can argue the dollars and cents, as the cynics would, but community pride in Tampa Bay is undeniable.